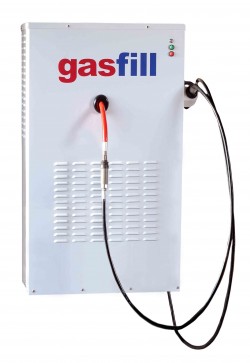 Client:
Gasfill – manufacture of CNG home refuelling compressors.
Brief:
Development of a CNG (Compressed Natural Gas) compressor that enables vehicles to be refuelled at home, operating from a normal domestic household gas and electricity supply which slowly fills the CNG fuel tanks within a vehicle whilst parked.
Project challenges
Key challenges on this project included:
Mechanical:
• Developing an accurate thermodynamic model to enable the fundamental configuration of the compressor to be achieved.
• Design of a low cost high volume compliant product for the consumer market.
• Design of high pressure (250bar 3600psi) compressor components.
• Design to achieve a 4000 hour maintenance free lifetime.
• To develop a unique design concept in order to support worldwide patent application.
Electronics:
• Control system architecture to ensure compliance to emerging safety standards Testing:
• The development of test regimes and equipment for 24/7 lifetime and durability assessment.
Solution:
All aspects of this technology which include the thermodynamic development of the compressor, control architecture, software/firmware and fuel delivery systems have been developed. Numerous compressors have been manufactured and have undergone rigorous lifetime testing which has resulted in the development of a pre-production prototype ready for manufacture. The compressor has been successfully patented in the USA, UK and within Europe.
Summary:
Micron has completed the successful long term development of the CNG (Compressed Natural Gas) compressor having developed numerous prototypes which has resulted in a pre-production unit that is now ready to exploit large volume manufacture.