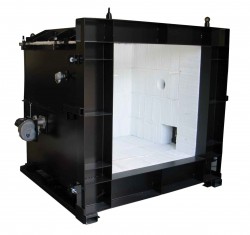 Client:
Leading fire protection company.
Brief:
To design, develop, manufacture and install a fire test furnace as a turnkey solution for a leading fire protection company to provide them with pre-conformance testing of their products.
Project challenges
Key challenges on this project included:
Mechanical:
• Research into refractory materials for the lining to withstand 1250oC
• Compliance to relevant British Standards.
• Gas based power train and burners.
Electronics:
• Real time control, monitoring and data capture.
Software:
• Bespoke data base creation.
• PC based user interface.
Solution:
This required the design, development and manufacture of a test furnace which comprised of a 1.7M3 (1.2m x 1.2m x 1.2m) chamber comprising of a steel constructed framework, low thermal mass furnace lining and two natural gas 56Kw burners enabling a maximum operating temperature of 1250oC to be achieved. A removable door and roof section enables test samples to be configured for testing. The tested products require an accurate temperature profile. This is achieved via a programmable controller which enables multiple temperature profiles to be selected and programmed according to the test criteria required. A PC and software provide test data monitoring and capture with a bespoke database system being used to provide the user interface, real-time display and data storage.
Summary:
The project has been successfully completed and installed at the clients headquarters in the UK. It has enabled them to drastically reduce their development time and costs of new products to market as they can now perform pre-conformance testing prior to gaining full accreditation at a certified test house. Previously product development and testing had to be carried out at the test house which proved expensive and time consuming.