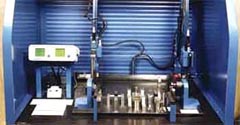 Client:
Leading manufacturer of high precision measuring equipment.
Brief:
To design a system capable of surface finish measurement of crankshaft bearings in a shop floor environment which would allow for minimum set up measurement cycles. The system is to be operated by personnel having limited metrology experience and consequenty needs to incorporate interlocking to prevent damage to the system and any resultant downtime.
Project challenges
Key challenges on this project included:
• To design and develop a surface finish measurement system with minimum set up and measurement cycles.
• To incorporate features and functions that are robust enough in a shop floor environment.
• Integration to Taylor Hobson's existing systems.
Solution:
A dedicated measurement system based around Taylor Hobson's highly successful Data Module and Traverse Unit was developed. The bespoke solution was designed to the clients exact specification with all drawings, parts lists, handbooks and maintenance manuals being produced.
Summary:
The system has now been successfully installed and commissioned at the customer's engine plant, situated on the crank shaft production line. The simplicity of operation and component recognition speeds up the whole measurement process by allowing the operator to carry out complex measurements, with minimum downtime due to the interlinking process.